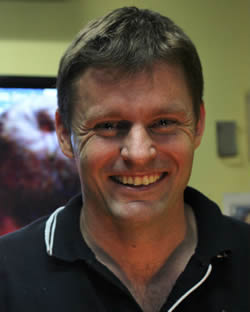 Ben Newsome founded Fizzics Education in 2004 to deliver science education across Australia which now reaches 300,000 students a year with staff in Sydney, Melbourne, Brisbane & Canberra. He is a qualified science teacher, former CSIRO Education member, 2013 Churchill Fellow,  2015 & 2016 Australian Small Business Education Services Winner and receiver of several Pinnacle Awards winner from the Center for Interactive Learning & Collaboration.
Ben is on the leadership team for the International Society for Technology in Education Interactive Video Conferencing group, an Ambassador for the Association of Science Education Technicians NSW, contributes to the education advisory committee for the GWS Giants AFL team and the NSW Churchill Fellows Association committee. In 2012 Ben co-founded the non-profit Virtual Excursions Australia which has now grown to include over 40 major Australian cultural institutions and departmental distance education managers to create collaborative video conference events and to share tips and tricks on best practice. In 2015 he co-founded another non-profit called the Pinnacle Education Collaborative, a network of over 30 cultural organisations in North America that deliver virtual excursions to schools, retirement homes, remand centres and more.
Connect with Ben:
Linkedin
Ben's twitter
Fizzics Education's twitter
How does this session contribute to Seeing Science Differently?
During this case study and also online practical workshop, you'll discover how to use video and web conferencing technologies to link students & the public with your science content.
Importantly, we'll look at specific examples on how distance lessons have allowed remote audiences to see science differently and re-engage with their communities.
See also:
Full Churchill Report (pdf)

Other support links:

Virtual Excursions Australia

NSW Distance & Rural Technologies

CAPspace

Centre for Interactive Learning & Collaboration

Virtual excursions offered by Fizzics Education