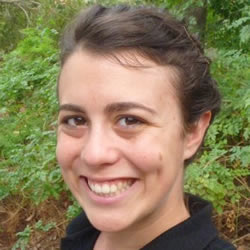 Hannah is an Innovation Mentor with the Questacon Smart Skills Initiative ( QSSI ), a role that sees her craft STEM and innovation workshops for school students that focus on creative problem solving and getting messy with hands on prototyping. The philosophy of these workshops is less about "learning science" and more about enabling students to think outside the box, utilising their own creativity to solve engineering problems in a fun, safe environment.
Taking these experiences around the country, Hannah has overseen a wide range of workshops with the QSSI team, from several quickfire workshops per day in-schools, through to five day, and even term long intensive programmes.
She is also the National Liaison Officer for the ACT ASC committee, and is super excited to bring back tales from the road once more, this time courtesy of Adelaide and the National ASC conference.
Contact: Email
How it relates to seeing science differently:
The content for QSSI workshops is created based on effective facilitation and learning theory, rather than putting the topic or subject first. By creating a safe space for students to build on their own skills and experiences, our workshops allow participants to link a positive, challenging experience with technology and innovation, as well as STEAM broadly. Join Hannah, as she explores how the Questacon team use this approach in the successful delivery of a national programme reaching over 20,000 students in the past 12 months.