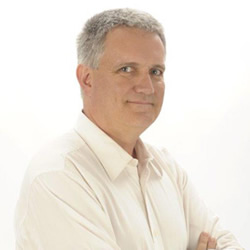 As Director for the Royal Institution of Australia, Dr Paul Willis is renowned as a presenter and host for Australia's Science Channel. With a voice instantly recognisable, Paul has a long history as a science communicator, with a career spanning ABC TV programs Catalyst and Quantum, ABC Radio, as well as the narrator and presenter of Monster Bug Wars on SBS and the BBC's much acclaimed Walking with Dinosaurs road show.
With a PhD in palaeontology, Paul has spent his life in science and science communication. At home in front of any audience, he is passionate about informing, educating and exciting people about all areas of science, innovation and STEM and he is keen to talk in a variety of public forums.  He was rewarded for his passion in 2000 when he was joint recipient of the Eureka Prize for Science Communication and was voted Australian Skeptic of the Year 2002 for his work against pseudoscience.
Dr Willis has produced many academic reports and papers, has authored or co-authored eight books on dinosaurs, rocks and fossils, and has written many popular science articles.
Paul was resident palaeontologist on eight Antarctic expeditions and brings this enthusiasm and keen sense of adventure to his speaking engagements.  He is ready and willing to engage and to stimulate community conversations about science, life, and everything else.
A skilled facilitator, speaker and host, Paul's unique style and personality make him a popular choice for a wide range of clients and audiences.
Dr Willis is available as a host or guest speaker for your event. Contact science@riaus.org.au for further information.
Follow Paul on Twitter @Fossilcrox