Sessions
Case studies and presentationsLivestreamPoster
Time
Friday 24 February
10:35am
Location
Auditorium
DocumentaryOnline
Time
TBA
TBA
Location
Online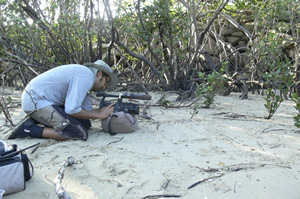 Trevor has been producing films, video and interactive media for over 18 years. His past documentary commissions include Western Australia's Marine Environment, Carbon Dioxide and Our Coral Reefs. In 2010 his independent film My Home the Block was selected for the F4 program at the AIDC and has screened on National TV SBS / NITV.  He worked as an editor for 100meter films in Japan on their award winning feature film Firefly Dreams. He currently runs Geonewmedia, a production company focusing on science, innovation and technology digital media
Connect with Trevor:
How does your work contribute to Seeing Science Differently?
In 2010 I joined a marine science expedition to the remote Kimberley aboard the Olivia J. Several weeks on a small vessel crammed with scientists and artists revealed just how differently we all saw the world. What we chose to focus upon defined us and our experience of the vast, wild surroundings.
Curiosity, lateral thinking and discovery are the foundations to great science and art. However often many scientists tend to see things in the same frame and possible approach challenges with the same scientific methodology. Working with artists challenged their view of a subject beyond facts and science.
The Secrets of The Kimberley attempts to expose the extremes of how scientists and artists can view the world. One is clearly about understanding and facts, the other imagination and fantasy.  Yet both play an important role in human experience and fulfilment in our lives.
I believe working closely with artists, invites scientists to see the world from a different perspective, perhaps allowing the  discovery of other truths.
Save
Save