LivestreamResearch
Time
Thursday 23 February
11:05am
Location
Auditorium
Speaker
Development Officer, Biosecurity and Regulation
Co-authors
Department of Agriculture and Food Western Australia (DAFWA)
Department of Agriculture and Food Western Australia (DAFWA)
Department of Agriculture and Food Western Australia (DAFWA)
Department of Agriculture and Food Western Australia (DAFWA)
Department of Agriculture and Food Western Australia (DAFWA)
Department of Agriculture and Food Western Australia (DAFWA)
Department of Agriculture and Food Western Australia (DAFWA)
Department of Agriculture and Food Western Australia (DAFWA)
Department of Agriculture and Food Western Australia (DAFWA)
Department of Agriculture and Food Western Australia (DAFWA)
Department of Agriculture and Food Western Australia (DAFWA)
Department of Agriculture and Food Western Australia (DAFWA)
Department of Agriculture and Food Western Australia (DAFWA)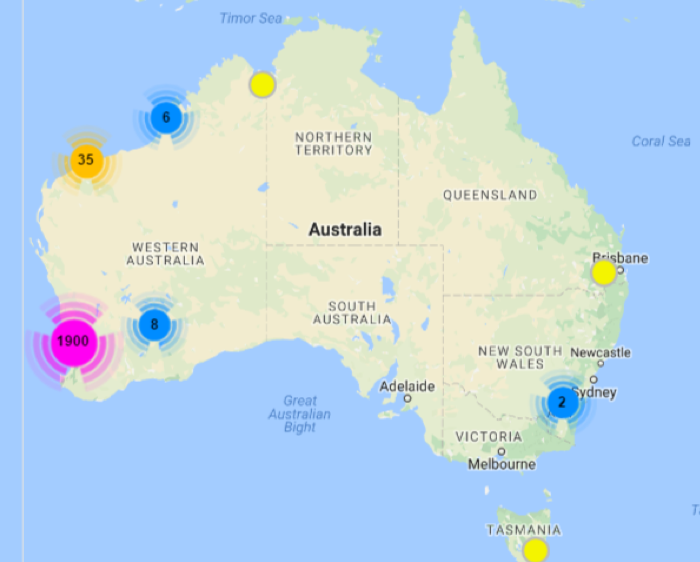 This is an image of the MyPestGuide map showing the location of the Pantry Blitzers
Abstract
Effective biosecurity surveillance increases the likelihood of early detection and effective eradication of unwanted exotic pests that have potential to harm Australian businesses and the wider economy. Recent national and state biosecurity strategies emphasise the importance of community participation in biosecurity surveillance but do not provide examples of how government can partner with community to collect biosecurity surveillance data. In 2016, the Department of Agriculture and Food Western Australia (DAFWA) ran a Pantry Blitz with the aim of partnering with community to collect biosecurity surveillance data.
The project team successfully applied for a National Science Week grant of $15,000 that enabled the purchase of 3000 simple pest traps. Each trap contained a lure designed to attract the exotic grains pest, khapra beetle, which is a not present in WA. There was a three month long communications campaign to encourage everybody to take part in the Pantry Blitz. The campaign included written media communications, printed materials, social media messages, attendance at agricultural field days and shows, mail-outs and online information. All Pantry Blitz participants (the Pantry Blitzers) were asked to register for a free trap to place in their kitchen pantry or household cupboard for a one-month period and report trapped pests. The Pantry Blitzers used the free MyPestGuideTM Reporter app, developed by the department, to send in reports of any trapped insects and DAFWA's subject matter experts identified the pests and sent a response back to each Pantry Blitzer. All submitted reports were published online on the MyPestGuide map and during the Pantry Blitz the project team sent the Pantry Blitzers regular weekly email updates on the progress of the Pantry Blitz to build team spirit.
The Pantry Blitz activity was considered a great success with 1877 participants registering for a free trap and the department receiving 2252 biosecurity surveillance reports. Media analysis showed that Pantry Blitz communications reached over 250,000 people and the Pantry Blitz communications campaign won the WA Rural Media Best Campaign award for 2016. The department will use these submitted pest reports to formally support Western Australia's area freedom for khapra beetle and help ensure ongoing access to international markets. The Pantry Blitz helped 1877 community members and their families to understand that they can play an important role as a pest reporter and help protect Western Australian businesses and the economy from harmful exotic pests.
Co-authors Anna Micha, Rosalie McCauley, Nadine Guthrie, Rob Emery, Catherine Webb, Liz Edwards, Andras Szito, Darryl Hardie, Nichole Hammond, Rebecca O'Leary, David Cousins, Alec McCarthy, Jeff Russell
Save
Save
Save
Save